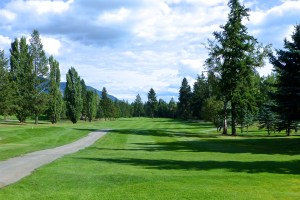 Hole #1 – A great chance to start your round with a birdie. A strong drive up the left side of the fairway opens up the hole to a left-to-right shot, but the green is small and surrounded by trouble. If your tee shot is less than perfect, the best layup is to a landing area left and short of the large fir tree, which offers an 80 to 95 yard shot, a level lie, great visibility, and a good angle into the green.
Hole Sponsored By – Western Financial Group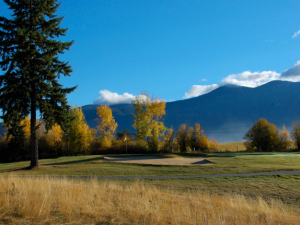 Hole #2 – Creston's "road hole". A tough uphill par 4. Challenge the out-of-bounds with a center right tee shot and you're rewarded with the best angle into the flat (by Creston standards), firm green with subtle breaks. A high 2nd shot is necessary if you wish to hold the green on the fly. A shot over the green makes recovery difficult. Hole #2 Sponsored By – Kokanee Ford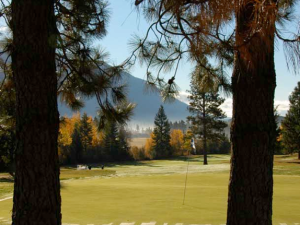 Hole #3 – A tee shot right of the large pine tree gives a good angle for your 2nd shot. Long hitters can go left of the pine, over the bunker, to leave a simple uphill pitch to a difficult green. A little local knowledge helps with putting here. A hard up and down from left or right of this green.
Hole #3 Sponsored By – Baillie-Grohman Estate Winery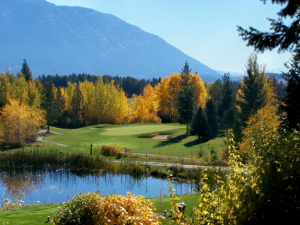 Hole #4 – Creston's first par 3 is all about elevation, wind direction, and club selection. The green slopes right to left more than it appears. The gully to the left is known locally as "the valley of four". Hole #4 Sponsored By – Creston Valley Funeral Services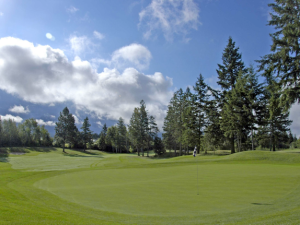 Hole #5 – This short right-angle dogleg left looks tight off the tee, but opens generously to the left past the row of trees. A shot close to the bunker, visible straight ahead, if it stays in the fairway, offers the best angle into the severely sloping green. If you're long on your 2nd shot you may be playing your 4th from in front of the green. A birdie opportunity. Hole #5 Sponsored By – Peter Martin Realty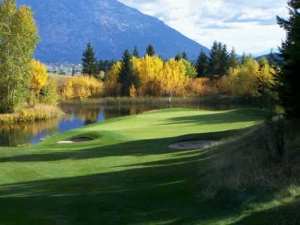 Hole #6 – Creston's most "aceable" par 3. It should be easy, but beware of a back pin on a windy day. An ace gets you an invitation to the hole-in-one dinner sponsored by Canyon Street Furniture.
Hole #6 Sponsored By – Canyon Street Furniture
Hole #7 – Truly Creston's signature hole, the 360 degree view rivals any in golf. A huge elevation drop and a wide fairway make eagles a possibility. Left center of the fairway presents the best line in. Approach shots to the difficult-to-hold green often bounce hard right. Hole #6 Sponsored By – Magnusson Hotel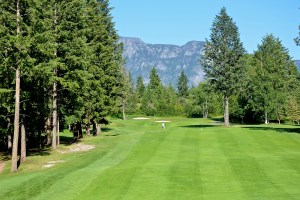 Hole #8 – Requires a solid tee shot left of the imposing fir tree (225 yards from the white tees), for the best opportunity to approach this elevated, multi-tiered green. Relatively short on the card, it remains long on difficulty. Hole #8 Sponsored By – Classic Glass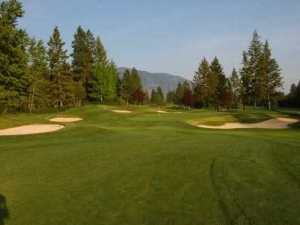 Hole #9 – Rebuilt in 2006, this short hole replaces the old #9 (with a green as severe as any on a US open course). Most locals feel the new green isn't that much easier than the old one. Drivable for the longer hitters, but that may not be a good idea due to the trouble that surrounds the green. Hole #9 Sponsored By – Kal Tire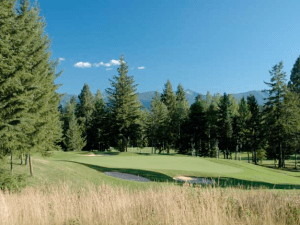 Hole #10 – One tough par 3. The easiest up and down is from short of the hole. It's difficult from anywhere else. Most visitors under-read this green. Hole #10 Sponsored By – Comfort Welding
Hole #11 – A very forgiving driving hole, if you don't go left, and an easy par 5 if you can figure out the subtleties of the green. Most putts break to the valley bottom, even if they don't appear to. Hole #11 Sponsored By – Pealows Independent Grocers
Hole #12 – A truly dramatic dogleg par 4. Some go for the green but most locals only do that in scrambles, having lost many balls in the attempt. Off the tee, the hole presents two relatively level landing areas: short of the bunker and longer left. A 200-225 yard shot is required, but remember the large elevation change. Another tough green, 2nd shot club selection is paramount. Hole #12 Sponsored By – All Signs
Hole #13 – This green has two tiers, right and left. Putting from the wrong tier may be hazardous to your score. "Members' bounces" abound, including an "ace" off the trees on the left. Beware the pot bunker. Hole #13 Sponsored By – Brandt Equipment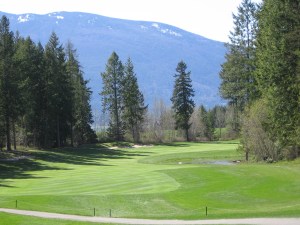 Hole #14 – The pond is 205 yards off the white tee on this dogleg right. The middle of the fairway, short of the pond is your most level lie. Driving over the pond yields a better angle and a short shot to the severe green, but presents its own obvious problems. The back-right pin can lead to a big number. The turtles and ducks don't care. Hole #14 Sponsored By – Kemlee Equipment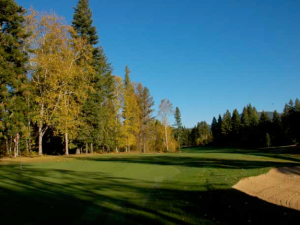 Hole #15 – Most locals play short of the ditch 180-190 yards off the white tees, for a level approach to a flat, firm green not visible from this landing area. Long hitters sometimes go for it, as the balls in the woods attest. It's best if you can hit a controlled left-to-right shot. Breaks on the green are subtle. The last "easy" hole. Hole #15 Sponsored By – Pyramid Building Supplies Ltd.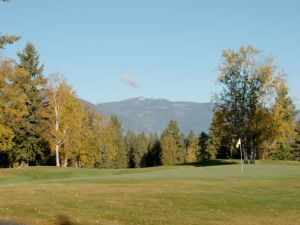 Hole #16 – A difficult drive, a difficult 2nd shot, and a difficult putt and you've just birdied Creston's toughest par 4, (Locally thought to be one the hardest holes in the Kootenays). Most members don't mind a bogey, if they haven't three-putted. You're advised to sneak up on a back left pin. Hole #16 Sponsored By – Vance Brand Source Furniture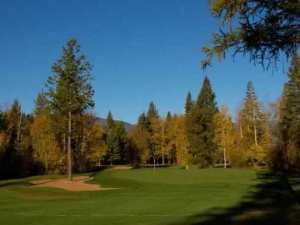 Hole #17 – A birdie hole after a perfect tee shot on this dogleg. How's your 240 yard delicate draw (power fade for you lefties)? Did I mention the ditch on the left? One infamous tournament score was 17. Hole #17 Sponsored By – Save On Foods
Hole #18 – This finishing par 5 plays longer than its 500 yards, as the landing areas slope uphill, and don't yield much roll. For a level lie and a straight line into the green, hit a solid shot up the left side. Tee shots to the right often bounce further right into a nasty patch of rough or a spot where your 2nd shot is blocked by trees. The green is not visible on the 2nd shot but offers great views for the 3rd. Hole #18 Sponsored By – Spruce Legal
The course plays much easier the 2nd time around, replay round is the cost of power cart. Can't be pre-booked (Be sure to book your tee time).